Taverham High School
Taverham, Norwich, Norfolk
At the heart of all we do is our school vision: To create a learning environment within which every individual can realise their full potential. We want all at the school to develop self-respect and respect for others and prepare themselves for life in a changing world.
Taverham High School is an 11-18 Academy located in the village of Taverham approximately 5 miles north-west of Norwich. Underpinning all we do are the excellent relationships between staff, students and parents/carers. At Taverham High School these are built upon trust and a shared purpose to achieve the best possible outcomes for the young people in our care. Our Governors are ambitious and work with us providing the necessary challenge to ensure we achieve our goals.
Good communication, trust and respect provide the very best basis on which to nurture and develop the unique gifts and talents of our young people. We are fortunate to have exceptional school buildings providing the very best environment for learning; the opportunities for our students are exceptional.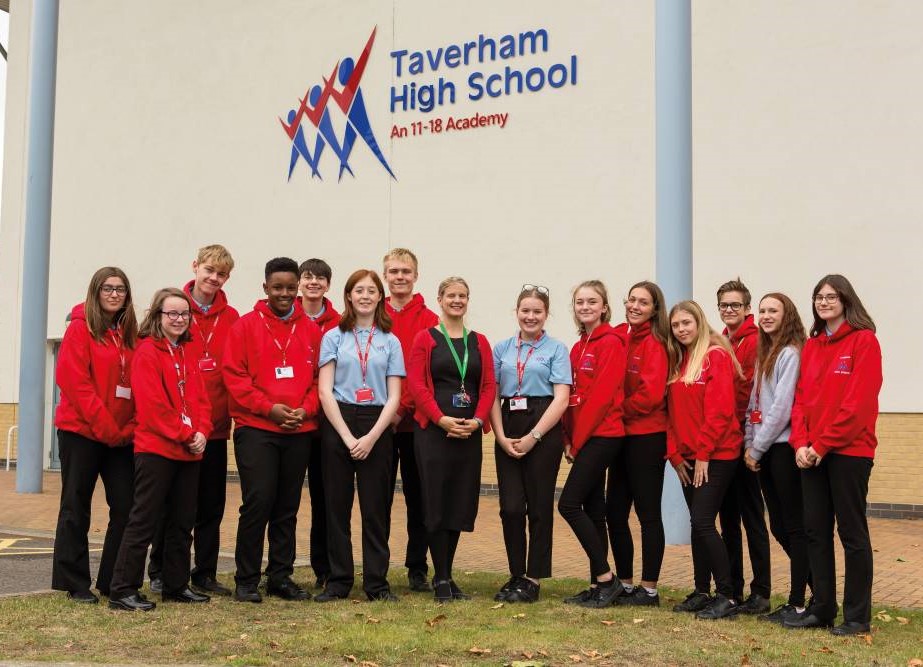 With a caring positive ethos, we seek to promote the development of students into resilient, independent young people, who are respectful and make a positive contribution to the wider community and beyond. We have high expectations of ourselves and our students and work exceptionally hard to ensure that we celebrate their achievements and support every student to achieve their potential, regardless of background, ability or barriers to learning. We want every student to feel safe and secure in our school and be able to grow and thrive. We are reflective and constantly strive to improve; we focus relentlessly on developing the teaching and learning that takes place. We have high quality teaching from specialists in their field providing interesting and exciting lessons that challenge and deepen students' skills, knowledge and understanding.  Our curriculum is innovative and flexible, meeting the needs of the individual students.   Every learner is treated as a unique individual with a breadth of skills and attributes that are nurtured and developed. We work hard to provide a personalised approach to all aspects of school life.
We believe it is essential that learning extends beyond the classroom. Taverham High School wants our students to take a lead role in the school community and to be role models to other students and within the wider community.
With a wide range of opportunities for fun, challenge and experiences beyond the curriculum, our committed and enthusiastic staff team help to enhance our students' learning. We are proud of our sense of community and students are encouraged to take responsibility, to consider others and work together as a team.
The positive culture and celebrations of success are very important and high-profile element of our school. Award evenings and celebration assemblies congratulate students' efforts and application in all areas of school life, be it in the classroom, on the sports field, in drama, music, in leadership, or community service. The staff team at Taverham, also understand that the smaller acknowledgements of successes whether it be through feedback, the recognition of progress or thanks, is vital in building student confidence, self-esteem and a love of learning.
Taverham Sixth Form is an inspiring and exciting place of further study. We provide a learning environment of high expectations and challenge which focuses on preparing students from across Norwich for the opportunities offered in higher education, employment and training. a dedicated Sixth Form Centre at the heart of the school with fantastic bespoke facilities for Sixth Formers to study, collaborate and socialise.
Taverham Sixth Form is a vibrant and exciting place to continue studying and to prepare for the next phase in life beyond GCSE. We are lucky to have excellent dedicated study areas, experienced and supportive staff and a highly motivated student body which allows our students to reach top destinations in Higher Education, work-based training and employment. Taverham Sixth Form is the perfect size to support students in a community that is friendly and supportive as well as being large enough to offer a wide variety of courses and educational opportunities. The ethos of the Sixth Form continues from the High School to maintain strong relationships and a sense of real community. 
At Taverham Sixth Form we pride ourselves on knowing each student well and developing strong working relationships within our community. Teachers are passionate experts in their subject areas and always provide inspirational and stimulating lessons that engage and enhance students' progress.
Our students' future pathways beyond Taverham High School and Sixth Form are of utmost importance to us. We want our students to be equipped both academically but also with leadership skills and resilience.  Our common goal to ensure the very best outcomes for all our students in supporting them to move onto successful pathways.
Members of Taverham High School